Features
Ideal for downsizing equipment
The thinnest belt thickness is 0.5 mm. Flexibility and flexibility due to 2 mm diameter, enabling designs with pulley diameters as small as 5 mm
High speed rotation is possible
Light belt weight reduces centrifugal tension and enables high speed rotation.
Long life
Long service life due to no deterioration from joints
What is Bando PS Belt, a seamless flat belt?
Bando PS Belt is a seamless belt with no seams, a precision, long-life flat belt with thin thickness and little variation.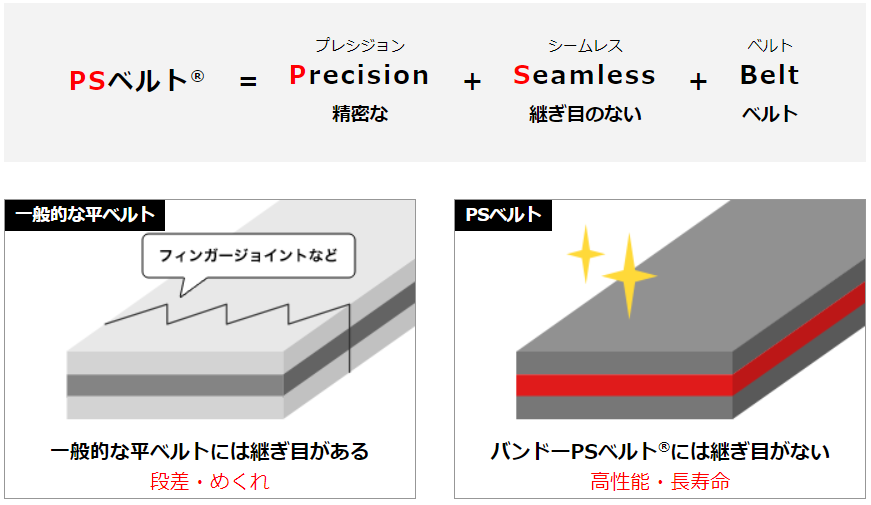 Lineup
A Series
(Coating type)
B Series
(Coating type)
C Series
(Coating type)
 Suitable for high added transmission and high speed rotation
 Suitable for light-load transmission and light-weight material transfer
 Elongation (elongation ratio 2.0)(0%) is available,
  Because it can be extended and mounted
  Fixed layout between axes without adjustment mechanism
  ideal for
Z Series
(Coating type)
E Series
(Elastic type)
Other special specifications
 Heat resistant (-40°C to 260°C),
  Ideal for use at high temperatures
 Elongation (Elongation ratio 5.0)0-8. (0%) is available,


 

 Adjustment due to stretchable mounting


   

For fixed layout between axes without mechanism


   

the most suitable
 Hole
 Anti-static specification
 Ear-fraying prevention specification
Although it can also be used for other purposes, such as
Some types may not be available for production, so please feel free to contact us.