Features
Reduced torque loss and improved transmission efficiency. Energy savings of up to approximately 6% is possible, contributing to CO2 reduction
Can be used with standard V pulleys, just by changing the belt.
Reduced belt bending rigidity for even lower heat generation
More durable than standard, stable life is more than Red
The number of belts can be reduced by up to 30% compared to our standard, enabling downsizing of the transmission system.
Structure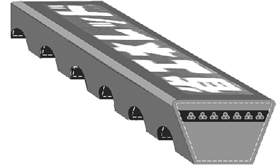 By notching the inner circumference of the belt, CO2 reduction and energy saving effects can be expected due to reduced loss caused by belt bending stress.
Application Examples Video