Features
Low belt bending rigidity and low loss, resulting in high energy savings
(Power consumption can be reduced by an average of 7% and CO2 by an average of 7% compared to the V-belt)
Compact design possible by reverse belt bending
Maintenance-free by tensioning with tensioner and about 3 times longer life than V-belts.
Significant reduction of industrial waste due to longer life and reduced belt weight
Flat pulley transmission reduces vibration and noise during pulley entry and exit
Applications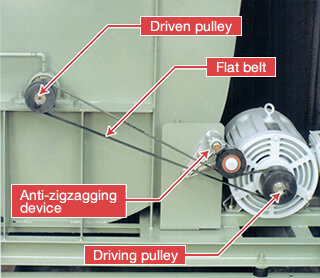 By attaching a pulley to control the meandering of the flat belt, the running position of the belt can be controlled autonomously.
The tensioning force can be controlled by a spring, and the tensioning force is maintained by a spring for long life,
Maintenance-free installation is possible. For installation, bracket A and B sections
(The tension is designed to be appropriate when fixed to the mounting plate (mounting plate) as designed.