Features
Minimum pulley diameter of 50 mm enables downsizing of transmission equipment
Low transmission loss and high-speed operation (belt speed up to 50 m/s)
Grinding of the ribs reduces rotational irregularities and enables smooth transmission.
Thinner belt thickness and less bending loss than V-belts, resulting in higher transmission efficiency (less power loss)
Compared to V-belts, the belt is less likely to sink into the pulley groove due to deformation and wear, which is advantageous for maintaining tension and maintenance.
structure
Heat resistance ...... is a heat resistant rubber compound.
Oil resistance...... can be used even with some oil adhesion. (Cutting oil)
      Scattering and adhesion of such substances can cause slips.
      Please note)
Water Resistance ...... is used under direct exposure to water or constant use under high temperature conditions.
      Please note that the product is prone to slipping when used for
Antistatic ...... Contact us if you need antistatic
      Please.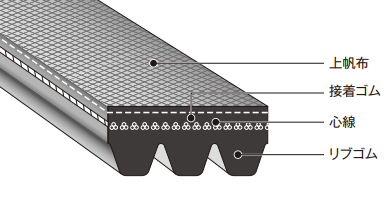 Application Examples Video