Features
Reduced torque loss improves transmission efficiency. Energy saving and CO2 reduction are possible without compromising transmission capacity.
No need to change pulleys, just replace the belt.
Reduced belt bending rigidity and self-heat generation, and more stable lifetime characteristics than Power Ace.
Structure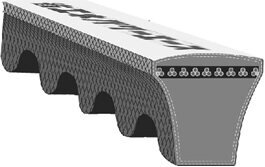 By applying notch processing to the inner circumference of the belt, CO2 reduction and energy saving effects can be expected due to reduced loss caused by belt bending stress.
Recommended products
Frequently viewed products related this page.